Certified Nurses Day - March 19, 2014735312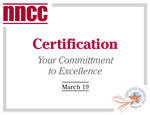 On the occasion of Certified Nurses Day, March 19, it is our pleasure to tell certified nurses and technicians that you are valued for your commitment to excellence. NNCC encourages employers of certified individuals to recogize their achievements. Please feel free to download the card below to present to your staff.
> Certified Nurse Recognition Card
> Certified Technician Recognition Card
> Order Certification Pins
Participate in a Research Project!735354
This study will replicate a study done by the American Board of Nursing Specialties (ABNS) in 2007 of the Perceived Value of Certification. We will compare our results with those of that earlier study to see if there are any changes in how nurses and technicians value certification.
> Read More
Report on the Future of Nursing
The Nephrology Nursing Certification Commission (NNCC) supports the Institute of Medicine (IOM) Report on the Future of Nursing. It is reflected in many of our initiatives toward specialty certification in nephrology nursing. > Download the paper (pdf)
The Value of Certification: A Presentation
Want to know more about certification and its value to your career and professional advancement? Well, we've created an easy-to-use presentation full of helpful information for your next ANNA chapter meeting.