Houston Methodist Hospital
Houston, Texas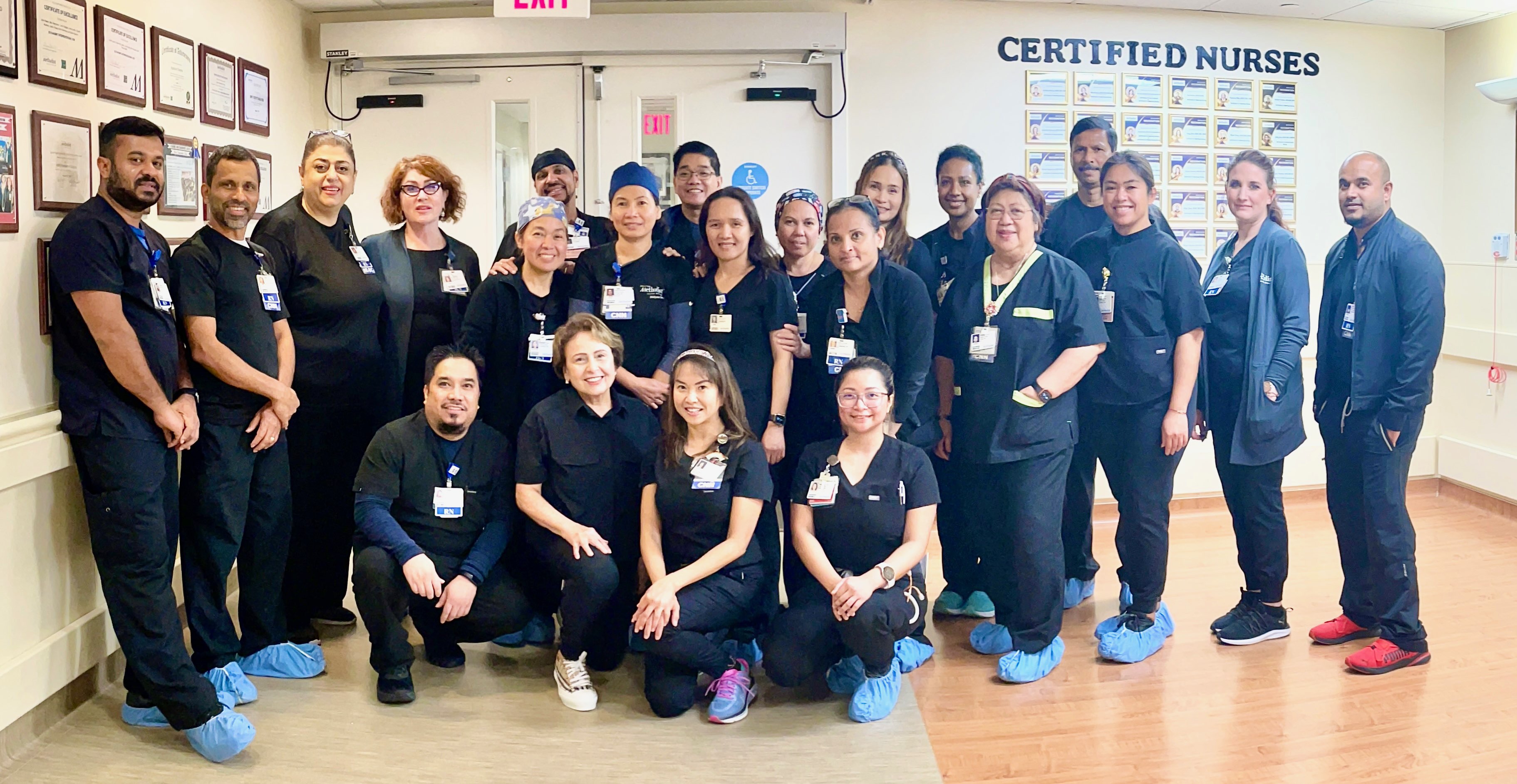 Each year, NNCC gives the Advocacy Award to one unit for outstanding performance in advancing nephrology nursing certification and patient care. Applications are reviewed by the NNCC Board of Commissioners, which looks for programs and activities that support certification. The Commissioners also consider the impact the facility has on the community. The winning unit receives an engraved plaque and a check for $1,000.
FOR 2023, THIS UNIT IS HOUSTON METHODIST HOSPITAL'S INPATIENT DIALYSIS UNIT
To further honor its dedicated staff members, we spoke with Sana Haj-Khalil, RN, BSN, MHA, NE-BC, CNN, Houston Methodist Hospital, Houston, Texas.
WHY DID YOU SUBMIT AN APPLICATION FOR YOUR UNIT FOR THE NNCC ADVOCACY AWARD?
Dialysis nurses at the Houston Methodist Hospital not only strive to provide the highest level of patient care each and every day, but they continue to do so while constantly challenging themselves to expand their knowledge and improve their understanding of their patients' conditions. The NNCC Advocacy Award was a great way to recognize the dialysis staff for their dedication, efforts, and my personal way to let them know how proud I am of them.
WHY IS CERTIFICATION IMPORTANT TO THE NURSES IN YOUR DEPARTMENT AND YOUR FACILITY?
Houston Methodist Hospital is a Magnet facility, and as such, certification is one way to demonstrate excellence in nursing and to help achieve their professional development goals.
HOW DO YOU MOTIVATE YOUR NURSES TO GET CERTIFIED?
Houston Methodist Hospital (HMH) strives to provide tools to aid nurses in obtaining their specialty certification and reward nurses in many ways, such as funding initial certification exam and recertification (up to $450); ensuring certified nurses are the first to be considered to be funded by HMH to attend national conferences and special events. Houston Methodist supports this effort through councils dedicated to professional advancement for nurses as well as specific funds dedicated to support these initiatives and celebrate them on national certification day.
DOES YOUR EMPLOYER VALUE/APPRECIATE NEPHROLOGY-NURSING CERTIFICATION? IF SO, HOW?
Houston Methodist Hospital (HMH) fully supports dialysis staff Nephrology Nursing Certification. At Houston Methodist, excellence in nursing has been a hallmark of our patient experience. As nurses, we are at the forefront of patient care, the continued training and education HMH provides for our nurses is essential to maintain and advance the level of world class care we provide. Nationally recognized certified nurses have demonstrated specialized knowledge and ability to provide competent care.
WHERE DO YOU GO FROM HERE?
We will continue to foster an environment that encourages and supports staff participation in the certification process. Our goal is to increase certification numbers among staff and encourage new staff members to obtain certification when they're eligible. Dialysis unit is committed to provide educational classes and certification study materials.
WHAT WOULD YOU TELL OTHER NURSES WHO ARE CONSIDERING NEPHROLOGY-NURSING CERTIFICATION?
One of the biggest opportunities to grow professionally within Houston Methodist Hospital Inpatient Dialysis unit is to obtain your nephrology nursing certification. Our nurses provide tireless services that play an incredible role in the outcomes and experience of every patient. Ongoing specialty nursing certification demonstrates to our nurses that they have the current evidence-based knowledge and abilities to meet national standards.
FOR MORE INFORMATION: If you would like to apply for the NNCC Award for Nephrology Nursing Certification Advocacy, there's plenty of time! Visit the NNCC Advocacy Awards page for details and apply before January 1, 2024.
View all NNCC awards, scholarships, and grants and apply.