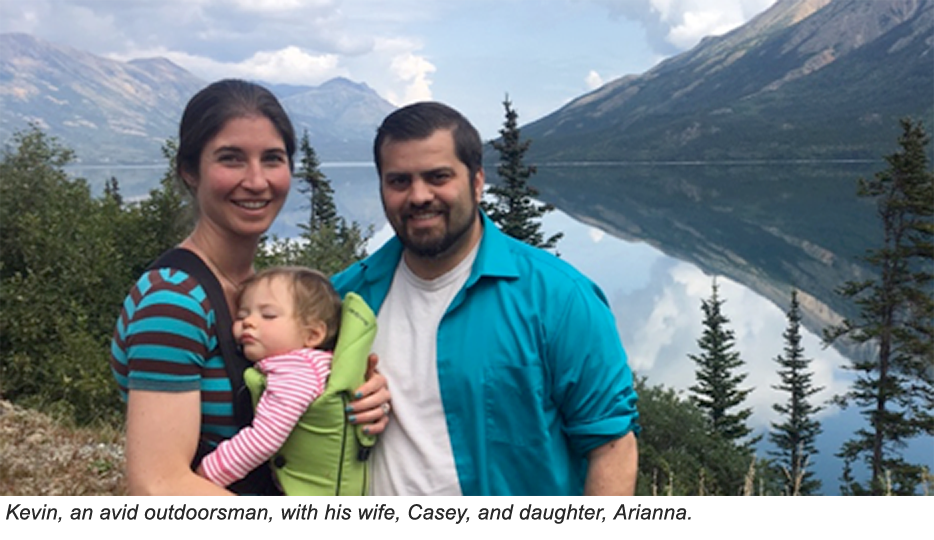 Millennials don't always get a good rap, but when you hear about people like Kevin Harris, you realize the flaw in painting an entire generation with a broad brush.
Kevin, 31, is NNCC's public member, a volunteer position held by an individual with no connections to the health care industry. The public member speaks for consumers, ensuring that their interests are considered in NNCC Board of Commissioners' decisions. 
To his core, Kevin is a giver. In addition to his work with NNCC, he volunteers for the United Way, his local Chamber of Commerce in his home town of Deep River, CT, and several youth groups.
You may not think that someone who works as a financial advisor by day, and who is very much a family man to his wife Casey, a special education teacher, and 2-year-old daughter, would want to take on a volunteer role in nephrology certification - an area lightyears away from finance. But when you hear more about the man, it all makes sense.
How did you initially find NNCC and why did you pick this particular organization? 
I was working with the husband of NNCC Past President Kim Alleman, MS, APRN, FNP-BC, CNN-NP, in 2017, and he mentioned that the NNCC current public member's term was ending. He said NNCC was looking for a millennial who had no connections with the health care industry. I reached out to Kim and learned more about the organization. I was very impressed, so I applied to be the public member.
Why did you choose to volunteer in this role?
There are several reasons: One, I'm always trying to learn and advance myself personally and professionally, so I knew sitting on a board with experienced nursing professionals would be a valuable learning experience. Another reason has to do with health care as a whole and the fact that quality care is so important for our country. Having the chance to be the voice of the general public to make sure that what we do is in everyone's best interest is something I very much wanted to be involved in. 
You're an Eagle Scout in Chester, CT. Which Eagle Scout skills do you apply to your role as public member?
I use the skills that helped me become an Eagle Scout every day. It's no different when I am doing things for the NNCC Board. The level of professionalism that is required, being prepared to discuss all topics, effective time management, and being able to adapt to all changes – whether they are industry regulations, people, or current trends – are skills I use constantly.
What else do you bring to the table? 
The financial aspect always helps. I am younger, so sometimes my views are different. And, since I bring an outside view, I always have questions; I ask why things happen or why they have to go the way they do. I think any outside perspective helps growth.
What is the most rewarding aspect for you in this role? 
The most rewarding thing for me is the opportunity. Just being able to be on the NNCC Board and have my voice heard is very rewarding. I get to know the other Commissioners (who are all amazing by the way), and build those relationships that will last a lifetime. 
What motivates you as a human? 
What motivates me most is my family and friends. Their backing and support allow me to do what I do. I like helping people; that's why I became a financial advisor and why I do volunteer work. For my NNCC role, I'm also motivated by the tremendous respect I have for everyone in the health care field and the work they do. Because I do a lot of volunteering, I want to make sure I go above and beyond for the Board and help them as much as I can.
Why do you believe so strongly in certification?
Growth is necessary both personally and professionally. If you aren't learning and growing, then you're falling behind. I think certification shows an individual has done the hard work and wants to stay at the top of his or her profession. With health care specifically, there is an inherent trust between the public and the professionals. When you go to the hospital, as a member of the public you just assume that everyone knows what they are doing. It's no surprise that usually the best and most admired workers have the most experience and highest certifications.
If you have one, pick out an idea you've had for NNCC that turned into something successful that you're proud of. 
I wouldn't say there is one thing in particular I am most proud of. Since I have become the public member, the board as a whole has made so much progress. I'm not going to take credit for it, but I like to think I helped a little. 
Briefly describe what you would most want the outside world to know about the value of certification in nephrology. 
The value of certification is apparent. People want to be the best and want help from the best. What certification does is help make sure you reach your potential and stay the best that you can be. 
Do you have any personal goal(s) in the future to help you be a more effective public member?
I want to continue to be an asset to the Commissioners and advocate more to the public about certification and NNCC.
What has been your experience with the other NNCC leaders and commissioners?
The commissioners are all amazing. I really can't say enough about the hard work and depth of knowledge and caring that they all have. Every meeting runs smoothly and everyone is on the same page. I am really honored to be able to work with all of them.
---
Reported by Janet D'Alesandro, NNCC Communications and Media Director.