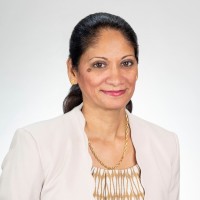 Belbina "Bina" Pereira, CNN-NP, has worked at the Manhattan campus of NYU Langone Health since January 2021. Bina has a wealth of experience in many aspects of nephrology, including outpatient and inpatient hemodialysis, chronic kidney disease, and peritoneal dialysis. She joined NYU Langone Health to experience nephrology at a world-class institution with top-rated programs in transplantation, cardiac surgery and advanced therapeutics, and oncology.
Since joining NYU Langone Health, Bina has contributed immensely to patient care, education, and the smooth operation of the dialysis unit. She manages many of the facility's acute and chronic dialysis patients, and has taken ownership of the inpatient peritoneal dialysis program. With her knowledge and interpersonal skills, she has ensured that all patients on peritoneal dialysis at NYU Langone Health receive prompt and appropriate care and has, in her gentle and wise approach, guided and educated nurses on proper procedures. She has also taken on the role of patient educator and is able to guide patients in selection of a treatment plan for chronic kidney disease because she is intimately familiar with advantages and disadvantages of various forms of dialysis.
Bina has also demonstrated a commitment to expanding her own skills. For example, she learned to manage continuous kidney replacement therapy and is also participating in research with NYU Langone Health faculty.
Bina has rapidly become an in integral and essential member, one to whom nurses and physicians turn for advice and guidance. As a nephrology nurse practitioner, Bina is an example of clinical excellence,
Leadership, and lifelong learning, which includes becoming certified by the Nephrology Nursing Certification Commission (NNCC).
Submitted by:
Judith A. Benstein, MD, FASN
Medical Director, Hemodialysis Unit
Section Chief, Nephrology Tisch/Kimmel
Associate Professor of Medicine